Every SEO has had the dream of putting up a website and it ranks with little effort, we know that we certainly have.
Well Chedders and I are trying to achieve just that. Our goal is to build a platform that provides a quality experience to the user yet we never touch a single specific page. We've had some great progress so far, but we've certainly got an interesting challenge ahead of us.
Before we get into the details, here's a bit about us:
Chedders (Chris Chedgzoy):
Currently has 2154 posts on the SEO Chat forums.
Has been a developer since the 80s, ran a large directory site and a few other projects of scale.
He's made tools such as Page Explorer and generally is up for giving anything a go.
Notable Skills:
Myself (Thomas Harvey):
Currently has 1186 posts on the SEO Chat forums.
I've been working with most aspects of websites/digital marketing for about 6 years.
Currently working with a tv shopping channel advising on their SEO campaigns and helping their international presence.
Notable Skills:
SEO
Conversion Optimisation
eCommerce
Affiliate Marketing
Social Media
Now that the introduction is out the way, lets get on with the interesting stuff.
The Theory:
Chris loves working with data, he's the kind of guy that the bigger the problem the happier he is. So, after talking a lot we wondered if we could rank for as much as possible with as little work. I've personally always meddled with affiliate marketing. So we thought, well how could we combine the two. After a while of brainstorming we settled on a product searching site.
It was the perfect thing for us. We would be able to utilise our skills and also be able to do tests on a massive scale. Such as changing thousands of pages to see if there's a change in rankings, for example, removing the h1 tags on every single page, and seeing the impact. It's a great way we can test any theory we will have, it will also mean that any of you interested we'll be able to test your theories and report back on them too.
The Practical:
With the idea being decided upon, Chris got to work coding, we decided to go with the domain zebo.co.uk because it's short and memorable.
After tying it up to a few product feeds (and a small site called eBay) we then had to tackle the problem of how we were going to actually get the pages indexed when we had no form of navigation through the site and we could search for any product in existence and we would have results.
So we used a feature that isn't utilised a lot and really is an afterthought for a lot of people. We used a sitemap, after playing with a couple of tools to generate a small sample (2000 keywords) from a few sources (serpstat and semrush). We uploaded the sitemap.

We saw results within 24 hours. We had gone from no pages indexed to 371 pages. It hasn't stopped there, this is what we see now for a site:zebo.co.uk query in Google.

It's started to drive small amounts of traffic (~50 users in a few days) which we were expecting the numbers to be small for this sample. As after all, the query page currently looks like this: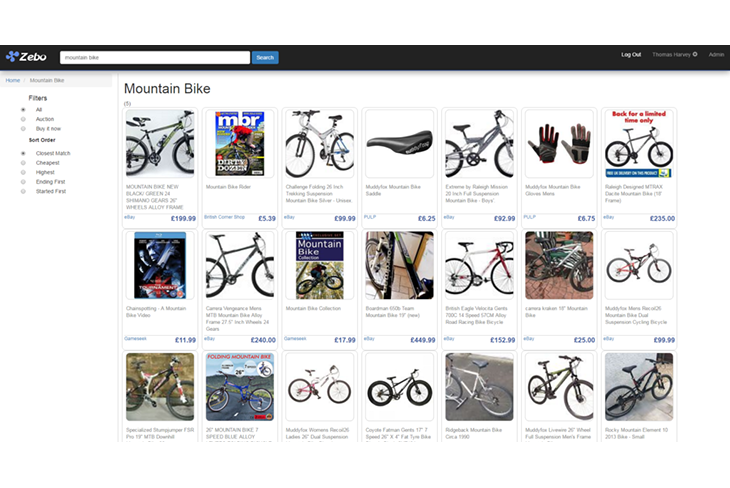 We know, it looks horrible. We're actually working on improving the quality of the data and making the search results more relevant (due to multiple sources etc). It will be improving quickly, here's a link for this page if anybody is interested: https://zebo.co.uk/q/mountain_bike
The Challenges:
We've launched, we've got some data and we've got some rankings. Here's a few hurdles we've got to overcome:
Is it possible to scale this while still getting a good indexation rate.
What's the best way to find new things to add to the sitemap
The Interesting Bits:
These are the parts that I think a lot of SEOs will be interested to know. These are things we don't know ourselves but we're looking to answer.
Can automated pages rank in search engines?
So far, we've been indexed and had some rankings. So yes, they can. Scaling and improving rankings however, that'll be a whole different story.
Can we add value to these pages on a large scale?
We're looking into adding things for specific brands. So if a search result has a specific brand it pulls up specific content to display underneath the filters.
Does site speed really have an impact on ranking?
We've had a lot of debates on this over the past couple of years. We're looking for an answer to this.
How much impact does the h1/h2 tags actually have (and other things like that)
We want to know how much the "standard" SEO techniques have an impact
Is there really a difference between underscores and hyphens in urls
Again, it's discussed but never really seen any tests.
We'll be trying to do as many of these tests as possible and updating them here. Got anything you want us to try just let us know in the comments.