You may have heard that "SEO is dead." Perhaps you've even said it yourself. The reality, however, is that SEO is far from dead!
In a recent Search Engine Land article, Columnist Stephan Spencer puts it this way:
"While SEO is NOT dead, the way that you're doing it might be. Does the following describe your approach? You've optimized your H1s and meta tags and you've built a few (hopefully white hat) links. Now you just sit back and watch your site rise to the top of Google, right?

Wrong. This sort of cookie-cutter approach to SEO — one that equates SEO to tuning a guitar or to following the steps to a pumpkin pie recipe — rarely works in today's search landscape."
This quote illustrates the ever-changing nature of SEO. As with any industry that changes frequently, SEO is a field you can't just "learn once" and walk away. Instead, you need keep up with its new developments regularly. And that's where this list of experts comes in.
If you want to stay on the cutting edge of effective SEO, good teachers and influencers are key. So be sure to follow these experienced practitioners on Twitter, and refer to their blogs, to keep up with today's leading SEO practices.
1. Christoph C. Cemper
Christoph is an SEO expert and the creator of Content Marketing intelligence software Impactana. Launched in 2015, this software helps marketers find content ideas that make an impact.
He began his work in online marketing back in 2003, when he provided SEO consulting and link-building services. In 2006, Christoph realized there was a need for accurate and reliable SEO software. So he developed the first internal tools. The software he developed became the basis for LinkResearchTools (LRT), a SaaS product containing four tools. It launched in 2009.
Today, thanks to continual research and development, LRT now offers 21 tools. It's designed with ever-growing functionality that's adapted to market requirements and Google changes.
Christoph also created Link Detox. Launched after Google Penguin rolled out, this software is designed for finding links that present a risk in a website's backlink profile. He has written and spoken about link risk management since 2011, and he introduced the technology and process for ongoing link audits in 2012.
Founded:
Where to Find Christoph:
Excellent Reads:
Words to Remember:
"Adding your site to any web directory just to get a backlink will have a negative effect on your website's ranking. Most web directories out there provide no real value to the Internet users and Google has excluded them from its search results. You don't want your website to be in there! Search for trusted directories. There are a few for every niche. These directories provide useful information to you, your target audience and your potential customers." (Source)
2. Neil Patel
Neil Patel is the founder/co-founder of several online businesses, including KISSmetrics, Quick Sprout, Crazy Egg, and Hello Bar. He's known for his influence as an entrepreneur, SEO expert, and online marketer.
Neil has helped many world-renown companies achieve significant revenue growth. A few brands on his impressive client list include Amazon, NBC, GM, HP and Viacom.
Entrepreneur Magazine has said that Neil created one of the 100 most brilliant companies in the world. Forbes said he's one of the top ten online marketers, and the Wall Street Journal has called him a top influencer on the web.
Neil was recognized as a top 100 entrepreneur under the age of 30 by President Obama and one of the top 100 entrepreneurs under the age of 35 by the United Nations. He has also been awarded Congressional Recognition from the United States House of Representatives.
Founded:
Where to Find Neil:
Excellent Reads:
Words to Remember:
"When we talk about SEO, Google comes to mind for most marketers … Most marketers don't consider that the second most used search engine can also be a lucrative channel … Since all marketers go after Google, Bing has lower competition. And, it has a decent market share, at 21.3%, in the US (including Yahoo search that's powered by Bing). Further, Yahoo-Bing network also has an exclusive audience in most verticals." (Source)
3. Sagi Solomon
Sagi is the Head of SEO at InboundJunction. He's respected as a tireless marketing enthusiast who's never content with the status quo. Constantly looking for the latest SEO trends and tools, Sagi's passion is formulating the most competitive search strategies possible. With a mix of technical prowess and creative vision, he has become a trusted problem-solver for his firm's clients.
Where to Find Sagi:
Excellent Reads:
Words to Remember:
"The speed of your website is one of the many factors that adds or subtracts to Google's trust of your website. If your website is fast and error free, it's less likely to cause any of Google's searchers problems, therefore, making it more trustworthy and likely to appear in search results." (Source)
4. Jordan Kasteler
A digital-marketing consultant specializing in SEO and social media, Jordan has been avidly involved in Internet marketing since 2001. He has a history of entrepreneurship, co-founding such companies as BlueGlass Interactive – an industry-leading agency in social-media marketing and SEO.
Jordan's experience includes serving as in-house SEO at Overstock.com, marketing strategy at PETA, and agency-level digital marketing. He's a regular speaker at various Internet marketing conferences, and he authored A to Z: Social Media Marketing.
Jordan is also a regular contributor to Huffington Post, Search Engine Land, Marketing Land, Search Engine People, Social Media Today, Addicted2Success, Lead Change Group, and others.
Founded:
Where to Find Jordan:
Excellent Reads:
Words to Remember:
"While your potential customers are less likely to be influenced by marketing campaigns, they're incredibly receptive to content about your brand that comes from other users. In today's world, your fans are likely to have more success selling your products than you." (Source)
5. On Yavin
With more than 15 years of experience with online marketing and SEO, On founded Online Performance, a company specializing in SEO, ORM and PPC solutions. As the active CEO, On is always monitoring the recent happens in the SEO world to make sure his clients get the best results possible.
On has a knack for enhancing SEO results with in-house technology tools his company developed to provide better results for his clients. As SEO develops, adding technology to the mix can amplify results and get a great competitive edge, he says.
On also enjoy sharing digital marketing and SEO tips on Business 2 Community, SEMRush, Tech.co and others. Expect to see a whole lot from On in 2017!
Founded:
Where to Find Ann:
Excellent Reads:
Words to Remember:
"Experience shows that even today, there's great importance to creating links for the purpose of web promotion. Any attempt to promote websites in categories that have medium to high competition without creating a hyperlink strategy is bound to fail. Even after many of Google's algorithm updates, links have great significance when it comes to rankings." (Source)
6. Matthew Capala
Former New York University professor Matthew Capala is an internet entrepreneur, founder, and sought-after international speaker. According to Matthew: "I believe that showing up is 80% of success. Why? Because in a world where 80% of customers search online before they buy, invisibility is a fate much worse than failure."
Matthew founded the boutique SEO agency Alphametic, which helps clients with SEO, website optimization, Google analytics, and paid search. His clients have included brands such as L'Oreal (and Makeup.com,) Shopkeep, Hoval, Quest Diagnostics, and others. He also the publisher of Search Decoder.
Matthew's work and ideas have been featured in the Chicago Tribune, Entrepreneur, Mashable, Digital Summit, Internet Summit, The Next Web, ePharma, Problogger and Huffington Post. He is also an international speaker and trainer. He's given talks at Social Media Week, Internet Summit, and many others. Matthew wrote the award-winning international bestselling book SEO Like I'm 5, among others.
Founded:
Where to Find Matthew
Excellent Reads:
Words to Remember:
"If you don't act on the technical audit and content strategies, you won't see any improvement to your website's online visibility. You need to get your hands dirty (either working solo or with an agency/consultant /developer/team). Put another way, it's not enough to read about the history of the tree. You need get out there and pick the fruit!" (Source)
7. Matt Janaway
UK-based SEO expert Matt Janaway has over 16 years of successful digital-marketing and eCommerce experience. CEO of Marketing Labs, Matt uses the latest proven online-marketing techniques to consult high-end brands. His specialties include SEO, link building, PPC, content creation and management, blogging, meta data, and more.
According to Matt on his Marketing Labs site: "There have been multiple studies which have found that SEO is the soundest long-term marketing strategy and can have a higher ROI than any other strategy. Our clients have seen a growth of over 1000% in 3 year periods."
Founded:
Where to Find Matt:
Excellent Reads:
Words to Remember:
"Growth hacking is a term that's thrown around a lot, and many people are confused by it. Growth hacking simply refers to doing anything you can do to grow your business. It differs from marketing in the sense that you use any means necessary. I'll be telling you how you can ensure that your business sees substantial growth, fast!" (Source)
8. Matthew Barby
Award-winning digital marketing consultant Matthew Barby is the head of growth and SEO at HubSpot. Specializing in developing growth strategies for businesses of all sizes, he's worked with Blue Chip companies and local businesses across a range of industries.
Matthew is a regular columnist for a number of marketing publications – including Marketing Land, Moz, and Search Engine Journal. He's also been featured in Forbes, Social Media Today, TechRadar, Entrepreneur.com, The Guardian, and many more.
Also, with the Digital Marketing Institute, Matthew has been a speaker and lecturer. He's lectured
across the SEO and social-media Professional Diploma certified courses, including the creation of course material, mapping of the syllabus, and recording of video lecture content.
Where to Find Matthew:
Excellent Reads:
Words to Remember:
"…It's really easy to get disheartened during the early stages of your social media campaigns. Things are slow at the beginning and it can feel like you're running in circles a lot of the time.

The reality is that most social media campaigns won't really deliver any real results until you've got a fair few months into them. Even then, depending on what niche you're in, it can take much longer. The most important thing to remember is to keep focused.

Have a strategy and stick to it – even if it feels like you're going nowhere." (Source)
9. Christine Churchill
With over 15 years' experience in Online Marketing, Christine specializes in organic SEO consulting, web site audits, PPC management, content marketing, holistic online marketing, and keyword research.
Christine is the president of KeyRelevance. The company offers results-oriented marketing programs for businesses of all sizes. Services include organic SEO and PPC management.
Christine has written on SEO and SEM topics for Search Engine Watch, Search Engine Land, MarketPosition, SearchDay, Wilson Web, SitePoint, NetMechanic, and SearchEngineGuide. She's also a regular speaker at Search Engine Strategies, Webmaster World Publishers Conference, Search Marketing Expo, and other Internet conferences.
Also, Christine has taught many online marketing classes through the International Association of Webmasters, Search Engine Strategies Seminars, Search Marketing Expo Bootcamps, and the Direct Marketing Association.
Where to Find Christine:
Excellent Reads:
Words to Remember:
"You are never done fine tuning your landing pages. As you put out new pages, learn what worked on earlier pages but continue to try new things too. In this competitive market, getting even another percentage better can make the difference between success and failure. Google Website Optimizer is a free tool that allows the webmaster to perform multivariate testing. Software that did this used to be very expensive. Google provides the tool without cost and has made it straightforward to use." (Source)
10. Rae Hoffman
Rae has been an SEO specialist for over a decade. She's the co-owner and CEO of PushFire, a full service digital marketing agency founded by industry veterans. The agency focuses on producing ROI for SEO, PPC, and online promotions.
Rae is also the CEO of Sugarrae. The company publishes various websites across several topic areas that are monetized by advertising avenues such as CPM, affiliate marketing, contextual advertising, and others. She's also the primary author of the often-controversial (but well-regarded) Sugarrae Internet marketing blog.
Also, Rae is a frequent speaker at PubCon, Affiliate Summit, SMX, and other events. She's also been a columnist for publications such as Search Engine Land, Amex's Open Forum, and more.
According to Rae, "I often refer to myself as a 'White Collar Redneck'. I'm a serial entrepreneur, proud born and raised Jersey Girl, an Honorary Canadian, an avid fundraiser for the AHA and am known for calling things as I seem them and never being afraid to speak my mind.
Founded:
Where to Find Rae:
Excellent Reads:
Words to Remember:
"I've become obsessed with site speed over the last six months, systematically working through each of my sites to improve their speed. Supposed SEO benefits aside, the faster your site is, the better the user experience. And the better the user experience, the higher the conversion rate – sales, leads or newsletter subscribers; whatever a conversion for your site may be. And that's a good thing for your business – no matter what type of business model you have." (Source)
Every SEO has had the dream of putting up a website and it ranks with little effort, we know that we certainly have.
Well Chedders and I are trying to achieve just that. Our goal is to build a platform that provides a quality experience to the user yet we never touch a single specific page. We've had some great progress so far, but we've certainly got an interesting challenge ahead of us.
Before we get into the details, here's a bit about us:
Chedders (Chris Chedgzoy):
Currently has 2154 posts on the SEO Chat forums.
Has been a developer since the 80s, ran a large directory site and a few other projects of scale.
He's made tools such as Page Explorer and generally is up for giving anything a go.
Notable Skills:
Myself (Thomas Harvey):
Currently has 1186 posts on the SEO Chat forums.
I've been working with most aspects of websites/digital marketing for about 6 years.
Currently working with a tv shopping channel advising on their SEO campaigns and helping their international presence.
Notable Skills:
SEO
Conversion Optimisation
eCommerce
Affiliate Marketing
Social Media
Now that the introduction is out the way, lets get on with the interesting stuff.
The Theory:
Chris loves working with data, he's the kind of guy that the bigger the problem the happier he is. So, after talking a lot we wondered if we could rank for as much as possible with as little work. I've personally always meddled with affiliate marketing. So we thought, well how could we combine the two. After a while of brainstorming we settled on a product searching site.
It was the perfect thing for us. We would be able to utilise our skills and also be able to do tests on a massive scale. Such as changing thousands of pages to see if there's a change in rankings, for example, removing the h1 tags on every single page, and seeing the impact. It's a great way we can test any theory we will have, it will also mean that any of you interested we'll be able to test your theories and report back on them too.
The Practical:
With the idea being decided upon, Chris got to work coding, we decided to go with the domain zebo.co.uk because it's short and memorable.
After tying it up to a few product feeds (and a small site called eBay) we then had to tackle the problem of how we were going to actually get the pages indexed when we had no form of navigation through the site and we could search for any product in existence and we would have results.
So we used a feature that isn't utilised a lot and really is an afterthought for a lot of people. We used a sitemap, after playing with a couple of tools to generate a small sample (2000 keywords) from a few sources (serpstat and semrush). We uploaded the sitemap.

We saw results within 24 hours. We had gone from no pages indexed to 371 pages. It hasn't stopped there, this is what we see now for a site:zebo.co.uk query in Google.

It's started to drive small amounts of traffic (~50 users in a few days) which we were expecting the numbers to be small for this sample. As after all, the query page currently looks like this: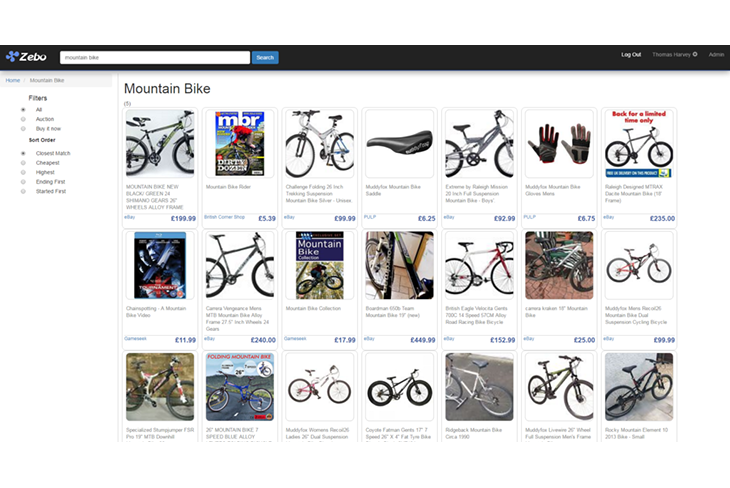 We know, it looks horrible. We're actually working on improving the quality of the data and making the search results more relevant (due to multiple sources etc). It will be improving quickly, here's a link for this page if anybody is interested: https://zebo.co.uk/q/mountain_bike
The Challenges:
We've launched, we've got some data and we've got some rankings. Here's a few hurdles we've got to overcome:
Is it possible to scale this while still getting a good indexation rate.
What's the best way to find new things to add to the sitemap
The Interesting Bits:
These are the parts that I think a lot of SEOs will be interested to know. These are things we don't know ourselves but we're looking to answer.
Can automated pages rank in search engines?
So far, we've been indexed and had some rankings. So yes, they can. Scaling and improving rankings however, that'll be a whole different story.
Can we add value to these pages on a large scale?
We're looking into adding things for specific brands. So if a search result has a specific brand it pulls up specific content to display underneath the filters.
Does site speed really have an impact on ranking?
We've had a lot of debates on this over the past couple of years. We're looking for an answer to this.
How much impact does the h1/h2 tags actually have (and other things like that)
We want to know how much the "standard" SEO techniques have an impact
Is there really a difference between underscores and hyphens in urls
Again, it's discussed but never really seen any tests.
We'll be trying to do as many of these tests as possible and updating them here. Got anything you want us to try just let us know in the comments.
We all know that we need to pay attention to SEO (search engine optimization) whether we are experts or not (or whether we want to be experts or not!). So, how do we start a new blog, equipped with the needed SEO foundations, without losing our head or losing our enjoyment of creating the blog?
Let's discuss that!
A blog is one of the most powerful digital marketing tools you have at your disposal, but only if you know how to reach your target audience. Blogging is one of the quickest ways to increase your following and build your brand.
Even though there are millions of blogs online, it's easy to make yours stand out even in the midst of the competition. In fact, even if you are like me and already have quite a few blogs online, that doesn't mean that you cannot venture out and create yet another unique and brilliant blog!
We could probably sit down and list all of the fun aspects of the creation of that new blog, especially if it is one for which we feel passion. However, if no one is listening, it can get a bit lonely, eh? That is why it is so important to ensure that we are getting the word out, or more accurately, that we are drawing traffic to our blog, so that we have that audience.
By having that audience, it can help us to grow our passion even more and that will come out in the quality of the content that we produce on our blog. What is one of the most foundational aspects to growing that audience? It is ensuring that our blog is SEO optimized, right out of the starting gate.
Ok, have I really told you something that you don't already know? After all, that is likely one of the reasons that you visit seochat.com, eh?
Ok, back to our topic… we can always "get the word out" at intermittent, strategic, and/or consistent intervals (preferably), but if we don't start with a blog that has the basics, when it comes to SEO, we have a lot more work ahead of us. And, who wants to work when we can be producing content with all that brilliant passion, instead?
So, let's get it started correctly, eh? In other words, it is easier to work "smart" than to work "hard," right?
Getting Started… First Steps
Getting your blog up and running is much easier than one may think. In less than 30 minutes, you can have your blog up and running. So, without further adieu, let's have a look and see how we can set up a blog in a few quick steps. Then, we will come back and talk a bit more about that SEO.
Choosing a Platform or Approach
Deciding where you want to create your blog is step one. If you are looking to save money, WordPress.com is an option. By far, it's the largest blogging platform in the world, with an endless array of plugins and add-ons. You pretty much have an infinite amount of choices when it comes to designing your blog. There is also an option to host a WordPress installation in a self-hosted environment.
To Host or Not to Host (Also, To Register or Not to Register… a Domain)
Before we go any further, you need to decide whether you want to self-host or go with a free alternative. While there are pros and cons of both options, take note that with a free service, you won't be able to have your own domain name.
If you are just blogging for fun, that's okay, but for businesses trying to make a name for themselves, it is much better to go with a paid service where you can "own" your domain. (Technically, you are registering a domain name and leasing it, but many times people confuse that with ownership and it is called "owning" a domain, in slang terms.)
Along with SEO, this ("owning of the domain") can increase website traffic by leaps and bounds. You see, having your own domain establishes your brand and your credibility. It helps to build trust in your business.
Design Your Blog
Designing the blog is where you get to choose your theme. Before jumping in with both feet, think about your business and what type of vibe you want people to get when visiting your blog. While creativity is key, you want to make sure whichever theme you choose goes hand in hand with your product and/or the service you will provide.
Even if the service is "only" the delivery of content (no shame in that!), it is still a service and the delivery of the product of your digital content. So, keep that in mind when deciding what you want your site to look like.
For an excellent in-depth discussion of these topics, visit this article on setting up your blog: "How to Start a Blog." Then, come back here and we will continue our discussion on getting those SEO foundational blocks in place.
SEO is King
After you have set up your blog and brainstormed some ideas of what you want to blog about, it's time to hone in on SEO. Remember, we are still putting together the framework for our search engine optimization foundation even as we build our blog (site), so this is just the right time to do it, remember?
Like we said earlier, SEO is what brings visitors to your blog. It is what keeps the conversation going. It is essential to your success as a blogger, as a publisher of digital content.
Due to the fact that every blog post you write actually becomes a web page, you need to make the most of the SEO opportunity. Write about keyword-rich topics that you would search for online if you were a consumer. SEO is far more than a few strategically placed words throughout your blog.
It is a matter of knowing which words to use, and when. It is also a case of knowing why these keywords and keyword phrases work so well (in drawing traffic). Now, use that knowledge!
The Successful Strategy and Use of Keywords
When used properly, keywords (and keyword phrases) should have the following characteristics:
They are only used a handful of times in your post. Overkill of keywords will only have your post flagged as spam by Google.
They flow naturally throughout the conversation of the blog post.
They are a combination of several words or a single word that directly relates to what you are blogging about in that post (or series of posts).
Continuing Your Success
In the world of online marketing, your focus needs to be on developing a relationship with your visitors. Proper and strategic use of SEO can get the traffic to the site, but you also need to ensure that you keep your audience combing back to the blog/site for more brilliant and entertaining digital content.
This is done through your effective relationship-building process and keeping the conversation going. That is why a well-written blog combined with strategically placed keywords, combined with that personality of YOU, will help build your online reputation and over time, increase traffic to your website. It is like a well-oiled circle. Then again, who oils circles?